Why Wood?
Solid wood countertops bring incredible presence and balance to any space. All of our custom wood countertops are completely hand sanded, then protected and finished with Waterlox® tung oil to create a lasting, lustrous and food-prep safe surface.
Wood countertops are also an exceptional, eco-friendly selection. Not only do we use these materials to add character and durability to your home, but we also feel a responsibility to minimize our impact on the environment.
Discover why so many designers and homeowners are choosing the beauty and durability of natural wood countertops for kitchens, islands and bars.
Wood Countertop
Advantages
Liquid Resistant
Easy to Clean
A Living Finish
Unlike other hard surface finishes that would have to be replaced
Glassware Friendly
Naturally smooth and soft
Safe
Low VOC and non-toxic with Waterlox® tung oil
Lasting Beauty
With rich grains, colors, and gorgeous natural aging
Easy to Maintain &amp Repair
Can be sanded and re-stained
Easy to Clean
Can be protected with a variety of finishes
Cost Effective
Almost always less than granite countertops
To see endless design options and styles and for more information on our wood countertops, download this PDF.
Renewable and Eco-Friendly
Wood is a replenishing, renewable resource unlike granite, which must be mined.
Kirkwood Stair Craftsmanship
We minimize wet area related issues near sinks due to the way we construct and seal our solid wood countertops. Depending on the finish selected, water spots and rings from glasses can be virtually eliminated. We choose a seal that is extremely durable and water resistant. Therefore, you can say goodbye to glassware rings that typically haunt wood covered areas. Although there are various types of sealants you can choose from, our professionals will advise you and offer cleaning tips specific to your choice.
Wood Countertop Maintenance
If a spill occurs, try to blot up the liquid immediately. Then, using a soft cloth and warm water, wipe down the surface of your wood kitchen countertop on a daily basis. You may also combine a mild dishwashing soap with the water. Rinse your countertop thoroughly followed by a clean, dry, soft cloth. We want to set you up to fully enjoy your new top for years to come. If you have questions about additional maintenance, our team would be happy to discuss safe options for cleaning and maintaining your surfaces.
Custom Wood Countertops St. Louis
At Kirkwood Stair, our team of experts will work with you to determine the species of wood you are looking for, along with the thickness and edge profile. We will also help you identify the distress level you are wanting, grain orientation, and thickness of the wood. All of the elements will create a tailored, unique look specifically for your home.
Our craftsmen design custom wood countertops to fit your environment and budget down to every detail. We keep your needs and requests in mind throughout the entire process. In addition to the custom options provided above, we offer special design elements such as drain channels, set-down rods, and trash receptacle cutouts. When you select Kirkwood Stair, you get true partner concerned with expert design and craftsmanship.
Butcher Block Countertops St. Louis
Looking for an additional unique, polished look? Our butcher block countertops are crafted from strips or blocks of wood that we carefully bond together to create a sophisticated, classic design. Traditionally, butcher block countertops are used as a work preparation surface. Butcher blocks meld form and function to create a true work of art for your home.
To prolong the life of your butcher block countertop and keep it aesthetically pleasing, be conscious to remove food waste. Using a mild soap, scrub the block. Follow up with a swipe of a clean towel to prevent excess moisture from sitting on the block. When dry, use mineral oil or beeswax to keep your work area conditioned and durable for years to come. As always, our team will gladly address any additional questions you have about your surface.
Will My Wood Countertop Stain?
The beauty of choosing Kirkwood Stair for your wood kitchen countertop is our choice of materials and sealants with our Waterlox® tung oil, your surface is protected and for the most part, worry-free.
Get an estimate for your custom wood countertop.
Complement Your Wood Countertops
Complement your wood countertops with Kirkwood Stair & Millwork's additional services. Your wood designs and specifications come to life with the help of our designers, craftsmen, wood carvers and installers, everything from sophisticated millwork to impressive stairs to one of a kind windows and doors.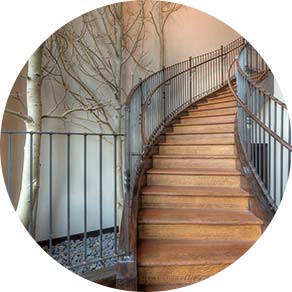 Stairs
No other interior architectural element makes a stronger statement than your staircase. Whether you're interested in new stairs and stair parts or enhancing your existing stairs, we will help you design, build and install the best custom staircase for your space.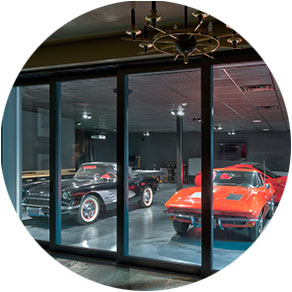 Windows & Doors
Customization is vital to making your space unique. That's why we are a proud distributor of Kolbe Windows & Doors, an industry leader in custom windows and doors designed to fit any unique vision. You bring the idea, and our knowledgeable staff will help you choose the right Kolbe products for your project.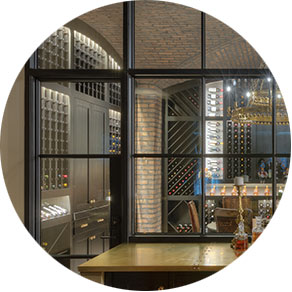 Custom Millwork
From arched casings to crown moulding, bookcases to library paneling, hand-hewn beams to mantles, we've got your custom millwork needs covered. Our collaborative approach ensures that your ideas reach their full potential.